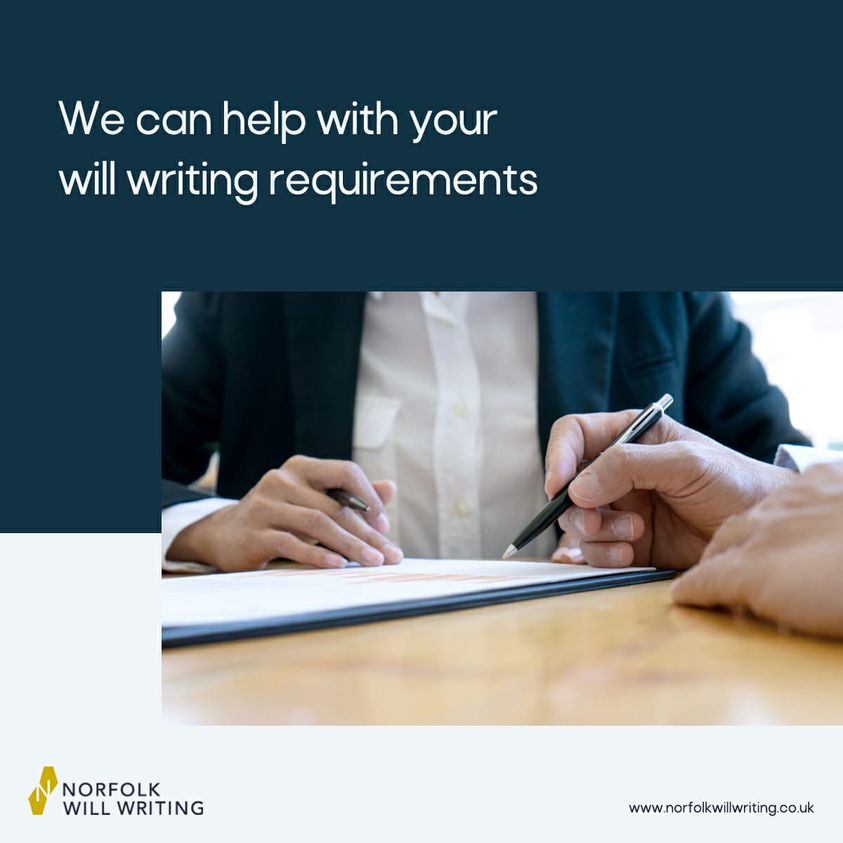 In the UK, 31 million people (59%) have not written a will. If you die without making a will, not only does the probate process become longer and more complicated, the people, charities or good causes you want to benefit from your estate won't receive the assets you want them to inherit, or they'll miss out entirely.
Without a will in place, your estate will be equally distributed to your nearest family members, which may well be what you wanted. However, if you have remarried or were living with a different partner, you may find that your children from a previous relationship don't receive anything.
Therefore, asking for help and advice from Best will writing service in Norwich is essential to make sure you have all your wishes covered in your will.
What is a will?
A will is a legally-binding document that sets out your wishes on who inherits your assets and possessions upon your death. It can also include the type of funeral you would like, who should raise your children if you die before they reach the age of 18 years, as well as any other specific instructions.
Whilst you can write your own will using one of the many self-service will packs available, if it isn't correctly prepared, signed and witnessed, your will may be invalid. This means that your estate will be distributed according to strict intestacy rules and not to your wishes. Therefore, it is always worth investing in a will writing service in Norwich to ensure the validity of your will.
Why do I need to write a will?
The reasons for not writing a will are varied: possibly it's because of the cost or you think you don't need a will. But one of the top five reasons is because people don't know how to start writing their will.
This is where a will writing service in Norwich can assist in helping you understand your assets and know what needs to be put into your will. Because your will is legally binding, it's vital that it is prepared using the correct legal terminology or your will may be considered invalid and therefore potentially be contested by beneficiaries or other parties.
The main reasons for making a will are:
To ensure your family and/or children are financially provided for when you die.
To name a guardian for your children if they are under the age of 18 years.
To provide for any dependents, such as step-children. The law states that only spouses or blood relatives may automatically inherit if you die intestate, i.e. there is no will.
To protect your partner if you are not married. The law does not take into account the length of time you have been with your partner.
To protect the family home. If it is in your name, your partner (if not married) and any step-children are not automatically entitled to inherit the property.
To avoid family disputes – this may happen if there is no will or if the will is not clear and is contested.
To avoid your family paying excessive inheritance tax on your estate.
To protect a subsequent family should you divorce and remarry. Even if you are divorced, it does not override your will, so your ex-partner could still inherit from your estate if you don't have a will.
To decide who administers your estate, i.e. your executor(s), although it is only fair to ask them in advance before naming them in your will.
To express your wishes on who looks after your pets and ensure they are provided for.
To protect any digital assets you may have, such as your email and/or social media accounts – you can set out your wishes, like protect the information or have it deleted and/or destroyed.
To leave a gift in support of your favourite charity or leave a donation to a good cause.
What does my will need to include?
A will writing service in Norwich will ensure all the correct information and legal terminology is included in your will that ensures it is valid.
Your personal information – it must clearly state your full name (including any aliases), your permanent address of residence, your marital status (including if you are living with a long-term partner although not married) and any dependents, i.e. your children, as well as any other dependents living with you. It is also a good idea to include the names of your closest family.
Your estate – your total assets and property should be listed, including any savings held in a bank or building society accounts, any trusts, premium bonds, pension and life insurance policies, investments, like stocks and shares, cars or other motor vehicles, furniture or other household items, jewellery, artwork, antiques or any other personal belongings. Record the value of your estate as accurately as you can – you may need to get some items officially valued. It is also worth getting your assets re-evaluated at regular intervals. Also list your debts, such as a mortgage, overdraft, loans or if you have entered an equity release package.
Detail who benefits from your will – make it very clear how you want your assets and possessions to be divided and who your beneficiaries are, including any people you wish to leave specific items to. Also, specify where you want any residual assets, etc., after funeral expenses, tax, and other expenses have been paid, to go.
Donations to charities – if you wish to leave a donation to a charity, you will need to specify the amount you wish to leave, who the charity is as well as the charity's address and registered number.
Your executors – a vital part of your will is naming the people who will be managing your estate upon your death. Known as executors of the will, it is their duty to apply for a grant of probate, which gives them the authorisation to execute your will according to your wishes, as well as pay expenses, funeral costs, request full and final utility accounts, sell your property (if needed), pay any inheritance tax (if necessary) and distribute your estate. Before you name an executor, consider the sort of person who would be able to carry out these duties and always ask if they would be prepared to take on the role first.
Sign your will – the last step is to sign your will, which you must do in front of two independent witnesses who are there at the same time – you cannot sign your will one day, and your witnesses sign on a different day. Your witnesses are not allowed to be beneficiaries of your estate, nor spouses or civil partners, as they could lose their right to inherit. In fact, beneficiaries and close family shouldn't be present at all when you sign your will. It is also recommended that you don't ask an executor to be a witness.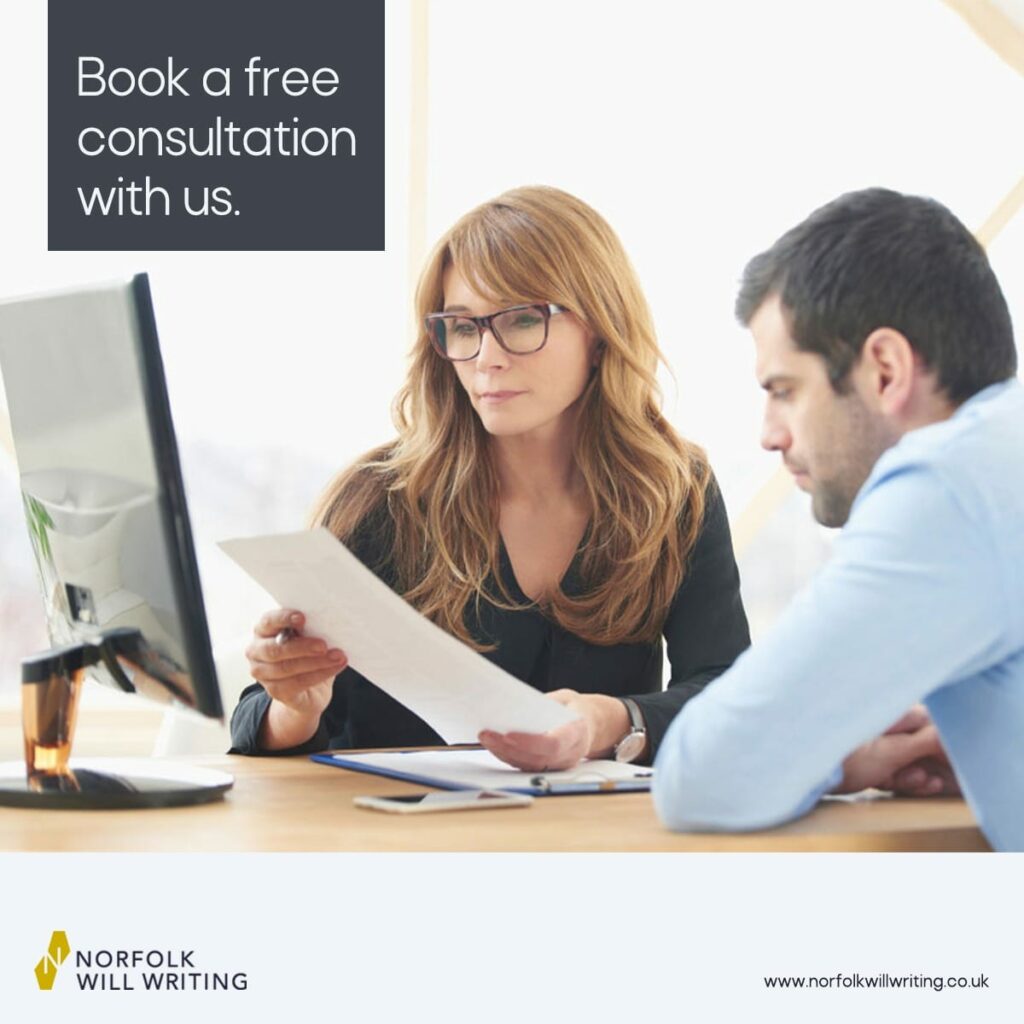 At Norfolk Will Writing, we have been helping our clients write their wills and assist executors of estates and families manage the probate process for over 20 years. We offer a personalised service, keeping the process as simple and easy as possible. Our experienced consultants are on hand to guide you at every step. Contact us for your free consultation and to book an appointment with one of our consultants to discuss writing your will today or carrying out your executor duties.